Rock Ya Body 2.0
CLICK HERE TO THE DOWNLOAD PDF
http://www.modelmayhem.com/casting.php?ccid=556936
Body Painting Extravaganza and Calendar Shoot
"Best of Both Worlds"
Something for the Fellas and Something for the Ladies
Models
Elyse Jankowski, Monica Vargas, Michelle Palomino, Amanda Weber, GbaBy44, Candy Heart, Geveadelle, ExoticAngie, Ivana Roberts, Toshi, Neni, Miss Jazmin, Naomi Kata, CJ aka spyro, Antoine, Junicue Kenny, Petrarcha,
Body Painters
Athena, Cheryl Painter, Dawn Timpa, Cat Badger, Nevsi, Emily Strange, LADY, Jess Lowe, Hannah O'Brien, Kelly O'Bara, Kenes, Karey Maurice, Jennifer Montgomery, Demer, Proze, Leon Rainbow, Will Kasso, SONTER UNO, Stie
Photographers
Andrew Wilkinson, JMT Photography, Chuck Walker, BaseLine Imaging, Charles Phox, Slawfe
Performers
Demitrious Tha Poet, YoBarney, Surg
HAIR & MAKE UP BY Aura Flores & Jarel Soto
VIDEO BY GENTRIFRIED & FILTHISM
Sponsors
Content Trenton, Decked, Destination Trenton, Peace Paint, Frank 151, Mad Jack Art, Vicious Styles Crew, Artworks, Albus Cavus
WhEn: blAcK fRiDAy, NOVEmbER 27Th 9pm – UNTil / $10 AT ThE DOOR
WhErE it'S at: ARTWORKSTRENTON.ORG (AcROSS fROm DmV) 19 EVERETT AllEy, TRENTON, NJ 08611
ContaCt: lEON RAiNbOW ATleon.rainbow@gmail.com – OR cAll 609.635.1411
fOR mORE iNfORmATiON /www.leonrainbow.com
Halloween Graffiti Workshop
Novice Class – 11:00am
River walk South Trail Near Rt. 27
$5 suggested donation
This class is for students that have never used aerosol and would like to learn the basics. All participants should bring a sketch book with sketches, sharpies or other markers, a pencil, (2 cans light color, 2 cans dark color )spray paint. This class should last an hour to an hour in a half. Dress Warm in Layers.
Instructor: Leon Rainbow
Intermediate Class – 1:00pm
River walk South Trail Near Rt. 27
$5 suggested donation
This class is for students know how to use spray paint but would like to learn some new styles and techniques. All participants should bring a sketch book with sketches, sharpies or other markers, a pencil, (2 cans light color, 2 cans dark color )spray paint. This class should last an hour to an hour in a half. Dress Warm in Layers.
Instructor: Leon Rainbow & Demer
---
Raw Power Public Art Project- Jersey City, NJ
Raw Power's official opening on October 3rd, an attraction during Jersey City Studio Tour 2009.
Also, a reminder that there is space available on site of the art exhibit, for an art market. If you have art you'd like to vend, please contact KASLEHRER@yahoo.com. $20 for the weekend of Oct 3rd and 4th. Free parking included.
I hope to hear from you soon, and I especially hope that you will come and be a part of the Raw Power project. Please feel free to spread this information to other artists that you think would like to participate! We still have room!
Leon Rainbow "Live and Un-Cut"
September 25 7PM-10PM
MANOS ART GALLERY
Brookside Ave, Bldg 31, Garage #8
Somerville, NJ
For More Information Contact:
Jerome L. Gonzalez
732.570.4315
manosartgallery@yahoo.com
Gonzalez Jerome on Facebook
---
URBAN ART
Riverfront Renaissance Center for the Arts
September 18th thru October 10th, 2009
Curated by Dr. Debra Miller and Liz Nicklus
Urban art is about uninhibited self-expression, an appeal to the disenfranchised, a new aesthetic that defies academic tenets and captures the harsh realities of the street and the world. The contemporary art of the city, from Pop and Graffiti to Found Objects and Dumpster ping, to designer toys and anime, has transformed fashion, fine art, and popular culture.
Artists: AZMA, Frances Nielah Bradley, Demer, David Foss, Joroko,Will Kasso, Peter Krsko, Karey Maurice, Karen McDonnell and Tony Cortosi, Paper Monster, Leon Rainbow, Vince Romaniello, and Burnell Yow!
Reception: Friday, September 18, 6-9 pm
With a graffiti art demonstration by artist Leon Rainbow
www.leonrainbow.com
22 North High Street, Millville, NJ 08332
856-327-4500
www.riverfrontcenter.org
---
PAINT AT STREETS 2K9 AND WIN FREE SUPPLIES
(New Brunswick NJ) The third annual interactive painting party at the Raritan River Art Walk will be on September 19, 2k9 from 10am to 7pm. This event is for you and about you. Just show up with your paint. Meantime, submit a sketch and get a chance to win free paint and art supplies. The deadline for the sketches is September 16. For more info visit albuscav.us
Sat September 19 noon-dusk
at the Raritan River Artwalk
New Brunswick, NJ
---
VICIOUS STYLES CREW & JERSEYGRAF.COM PRESENTS
Jersey Graf Fest
MAP OF EVENTS

View Jersey Graffiti Fest Venues in a larger map
Due to the rain we are going to postpone the Jersey Fresh Graffiti Jam until, Sunday August 23rd.
The After Party Will still take place as scheduled.
Thanks Leon
After the Teracycle NJ Graffiti Jam wraps up on New York Ave the party moves over to The All Call Inn in Ewing NJ. Be sure to come and check out all the great sponsors, performers and Graffiti Demos. Plus there will be cheap drinks and music all night long. BE THERE!
Diffy Productions and Leon Rainbow Present
Saturday August 22nd
The NJ Graf Jam Afterparty
Location:
The All Call Inn
214 Weber Ave Ewing NJ 08638
Doors at 8 PM
$5 cover
Events:
Graffiti Demo
Graf On Girls (or Boys)
B-Boy Crews
Live Music and DJ's all night
Drink and food Specials
Giveaways!
Performers:
Travesty (MC)
One Dae(MC)
The Dream (DJ)
Others TBA (One more full band, a DJ and MC's)
Sponsors and Presenters:
LeonRainbow.com
Diffy Productions
Philly Raw Talent
Terracycle
The All Call Inn
New York Kings
FDL International
Frank 151
Neast Clothing
Day In The Lyfe Magazine
---
On August 15, 2009, 45 youths participating in the Edgewood Mural Project, a 6-week course in community art administered by Albus Cavus, will execute a planned mural. This event will take place at 550 Rhode Island Avenue NE, Washington DC in the Rhode Island Avenue Shopping Center adjacent to the Rhode Island Avenue Metro Station on the Red Line. Artists will also contribute their own works elsewhere along the 300 plus foot wallspace. The Mural Jam will take place on Saturday, August 15th, from __am to __pm. Invited artists include: POSE2, Peter Krsko, Asad ULTRA Walker, Quest Skinner, DECOY, Chanel Compton, SMK, C.D. Edwards, SIMEWON, Kelly Towles, REI21, Leon RAINBOW, DEMON202, DAHONE, FREDONES, KOTER, Dave CRAMSKE, Daniel R5 Barojas, DAJAM ONE, LUV1, REALMTOO, Aniekan, CON, AREK, EON2, QUEEN2 and many more…
Press Release (courtesy of Massey Media)
Social Network
http://createpublicartdc.ning.com/
Google Map
http://maps.google.com/maps/ms?hl=en&ie=UTF8&msa=0&msid=117867778816884658543.00046fa530a7c9f1b247b&ll=38.921723,-76.997858&spn=0.002746,0.005681&t=h&z=18
38 W Lafayette Friday July 31st
5:30 – 10:00
Artists' Reception: 6:00
featured artists
Alex Lynch www.alexandralynch.com
Pose 2 www.posetwo.com
Andrew Schuessler
Anthony "Tronix" Fearron www.myspace.com/maddtronix
Beverly B Keese-Kelley
Emily Strange
James Carey www.TrentonAirbrush.com
Javier Robles www.ThisAbled.com
Karey Maurice www.RedBalloonStudio.com
Larry Hilton JazzArt@aol.com
Leon Rainbow www.LeonRainbow.com
Marsha M Newman wileyworks@comcast.net
Russell Murray rusmur2@aol.com
---
ART ON THE ROAD: ART-O-SAUR/ROCK-A-DILE

Saturday, August 1st
8pm, $5
@ Pterodactyl
3237 Amber St, 5th floor
Philadelphia, PA 19134
Music:
Univox
The Lemon Treasures
The Great Unknown
Conversations with Enemies
Victor Victor Band
---
MUSAIC
Small World Coffee and NJ Water Watch present a night of Art, Music and Environmental Awareness!
NJ Water Watch
Wednesday, August 5, 2009
7:00pm – 10:00pm
Small World Coffee
14 Witherspoon Street
Princeton, NJ
To learn more about the projects, visit www.princetonwaterwatch.wordpress.com
---

A 24 Hour Visual and Performing Art Event
3 PM SATURDAY JUNE 20 – 3 PM SUNDAY JUNE 21
For More Info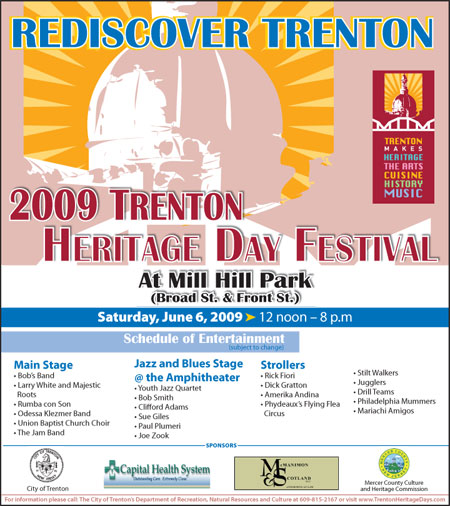 State Theatre presents the First Annual
Urban Arts Festival
Sat, May 23, 2009
12pm – 9pm
A day-long outdoor celebration of the music, dance, poetry, and art that comes from America's urban centers. The festival includes live performances by local artists, community, and student groups; hands-on workshops; food; games; and much, much more!
Emceeing the Urban Arts Festival is
la C.Guapa from WRSU's Ultrason Latino (for more info on la C. Guapa) (for more info on Ultrason Latino)
with DJ Tony 'El Uniko.
Featuring
Glenis Redmond (more info on Glenis)
The Mayhem Poets (more info on poets)
Revolucion Urbana
Plus…
New Brunswick High School Drumline
American Repertory Ballet's DANCE POWER scholars (more info)
Strictly Street, dance group
Pandora Scooter, spoken word (more info)
Poetic Assasin, spoken word (more info)
Black Circle Symphony, drummers
El Trobador Costeño, music (more info)
Fuse, music
Marsseil y Su grup Polvora, music group
Rutgers Capoeira, dance/martial arts (more info)
Albus Cavus, urban mural art (more info)
and more performers to be announced!

STAY TUNED TUNED FOR A COMPLETE SCHEDULE OF ARTISTS
The day-long festivities will take place on Livingston Avenue between New Street and George Street.

Urban Arts Festival sponsors include:
The George A. Ohl, Jr. Trust Foundation

Food vendor service provided by Mom's Food Service.
Vicious styles crew presents
Rock Your Body
Live Body Painting Competition
Featuring Will Kasso, Leon Rainbow, Willis Nomo & Demer
Music by Wise Intelligent
DJ Manik on the ones and twos
You vote for the best design!
Trenton2Nite
Friday, May 8
Maxine's
120 S. Warren St., Trenton NJ
9 PM – midnight
21 and over
NO COVER
For more information,
visit www.trenton-downtown.com, or call (609) 393-8998 x13
Sabotaz Sketch Contest
Raiders of the Last Art
graffiti comix, GARDEN sk8, snowstorm grafx, and blockstarrz entertainment
proudly present:
THE ST VALENTINES DAY MASSACRE 2008..FEBRUARY 14TH
THE ST VALENTINES DAY MASSACRE..AND ART AND BIRTHDAY CELEBRATION FOR
DEMEROCK AND SNOW FX!

FEBRUARY 14th 8PM TILL MIDNITE
GARDEN SK8 THE EAST COASTS SICKEST SKATE PARK!
321 CHANGEBRIDGE ROAD
PINEBROOK NJ 07045
Any questions regarding the show please contact demer @
973 759 1110 or graffiticomix@gmail.com
The massacre lives again as modern day gangsters slay the world in
this multiflavored celebration of GRAFF and hip hop ALONG with
celebrating the birthdays of DEMER and SNOW FX
artists from around the world come together to bring you NJ's
biggest, most historic graff show..sure to be the stuff of legend to
future generations.
artists whoose work will be shown:
DEMEROCK WALLNUTSSNOW FXMUSE WALLNUTS
SOCO WALLNUTS(NJ)BEEN 3 WALLNUTSTHE VICIOUS STYLES CREW (RAIN,KASSO,PLAN,MEK,PRO AND AZMA)
FREE 5 WALLNUTSMAD C WALLNUTS,BANDITS
MS BLES MTR
REE2 MTA (NYC GRAFFITI LEGEND AND PIONEER!)
PER FX
POSE2 FX
HEF FX
THE 3 STEPS CREW
VYAL (
DABS aka MR SMOOTH
MYLA
YOURZ TC5WEB ONE KAOS
THE JAO CREWTHE AIDS CREW!
MERES TD4 (5PONITZ NYC)
STRES TF
VENG OF ROBOTS WILL KILL! (NYC)
CERN YMI
FH CREW
RIME MSK
CEAZE MSK
GASER AM7
CEOS CWK
DR.CRAB
FARO ADHD
UNEK PHEOS AD
REZ ABK
FEMER ABK
BLAME QM8
And more artists to be announced!
Live music and featured performers animal crackers!
Also we will be doing a 50/50 raffle for cash, artwork by select
artists and merchandise!
Security will be in full effect. Come correct or don't come. Troublemakers, haters and knuckleheads of any kind will not be tolerated!