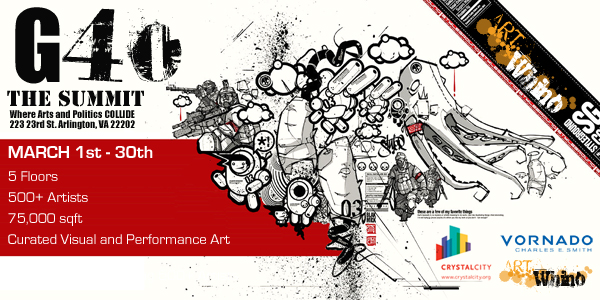 G40: The Summit
5 Floors
500+ Artists
75,000 sqft
Curated Visual and Performance Art
A dynamic contemporary art exhibition featuring curated works from artists around the world on display for a full month, featuring musical and visual performances, lectures, live painting and much more!

Art Whino teams up with Crystal City BID and Vornado to present G-40: The Summit, a month long exhibition and event series featuring over 500 artists from around the world.
The mission of G40: The Summit is to bring the leaders of the New Brow genre together in Crystal City, VA in an effort to explore, discuss and grow this movement. G-40: The Summit will be a culmination of ideas and processes, brought together and highlighted by region and style, creating, for the first time, a full cross examination of this genre.
This event will feature 75,000sqft of exhibition space with 4 floors of art! Each floor will represent different hot hubs of the New Brow movement: The DC, New York, and California metro areas, plus one all encompassing floor for international and other regional artists. Visitors of G-40: The Summit will, for the first time, be able to experience entire floors showcasing artists from these regions, and because of this set up, connect the dots of how the different sub-cultures and environs affect the art. From the laid back California Style, to the fast paced New York way of living, the art will bring a fresh visual perspective that words cannot provide. With all the different styles in one place the New Brow movement, now growing and expanding worldwide, will be more comprehensible to the viewer, finally defining the line between the movement's beginnings to its future. A movement that currently exists without much literature or founding in "traditional" institutions, yet includes some of the most highly recognizable and sought after art in the world, will inevitably become a major player in the intellectual and mainstream art world.
Each floor will have 10-30 "Showcased artists" who will activate the space with murals and installations, helping to set the mood for their region. In addition to the showcased artists we will have an additional 50-100 region specific artists exhibited on each floor. The show will run up for a month. During the month there will be musical and visual performances, lectures, and more. Also we will feature various art related groups and non-profits, helping to promote their mission and inspire ongoing conversations about the New Brow art world in DC and beyond.Event Schedule:
Show Month: March 2010
Open Hours: Wednesdays & Thursdays: 5 – 10pm,
Fridays & Saturdays: 12pm – 12am
Sundays: 12pm – 6pm
Mondays & Tuesdays: Closed
Event Location
223 23rd St. Arlington, VA 22202
Metro Accessible and pleny of parking
For more info go to: http://crystalcity.org/accessible/parking
Art Whino Gallery
Art Whino is a DC based art gallery whose mission is to bring together the freshest and rawest talent from around the world. With over 400 artists in the Art Whino arsenal, ranging from California to New York, Germany to Japan and beyond, Art Whino has become an all encompassing force in the art world. Exhibitions cover the whole spectrum of new art forms ranging from exposing emerging stencil and wheat pasting artists to showcasing the most skilled leaders of many different genres. For the life essentials Exhibit 100+ artists have been invited to participate exhibiting one piece each.
Crystal City BID
Crystal City, Arlington's largest downtown, is transforming. Bright and vibrant, Crystal City now features an abundance of fine restaurants, cafes, specialty stores, outdoor movie nights, bike trails, and two award winning theaters with Arena Stage and the Washington Shakespeare Company.
With its quick access to the Metro area and proximity to Ronald Reagan Washington National Airport, the area is attracting many well-known businesses, non-profits, artists, tourists, and residents – all who are excited to call Crystal City home. From our hotels to our transportation options, Crystal City is also a green and environmentally-minded area – visitors can feel good about their stay with us, inside and out.
Established in April of 2006, the Crystal City Business Improvement District (BID) is creating a soul for Crystal City. A public-private partnership, the BID is providing a higher level of service to visitors, workers and residents in Crystal City – driving to become world-class destination in both Arlington and the greater DC region.